Τrochalakis Grigoris
Furniture Dyeings Iraklio Crete
The company TROCHALAKIS is located in Iraklio Crete, in the area of ​​Stiakou Metochi, Finikia and has been successfully active in the furniture dyeing and furniture restoration industry for individuals and businesses for many years.
Our long experience in furniture dyeing, our experienced and well-trained staff and our high-tech equipment have brought us to a leading furniture dyeing workshop in Crete.
We achieve an excellent result in the restoration and maintenance of your furniture as well as the disinfecting of these at the most competitive market prices.
Contact us here and we will be at your disposal for any information, questions or advice about restoring your furniture.
We ensure unparalleled quality and aesthetics on the surfaces of all furniture!

We provide:

excellent work quality

high quality materials

reasonable prices

receipt and home delivery free of charge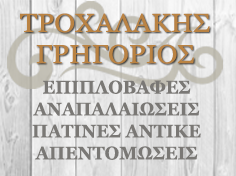 STIAKOU METOCHI, FINIKIA - Iraklio
6955172747, 6972248574 | giannistrochalakis@gmail.com