Τrochalakis Grigorios
Restoration of Furniture Heraklion Crete
The company TROCHALAKIS undertakes responsibly in Heraklion, Crete, furniture repairs and restorations.
Using special techniques, modern styles and working in special protective areas to completely protect your furniture from external factors, we achieve their aesthetic appearance by transforming them literally.
To do this, we completely remove the old color of your furniture, we bring them in their original form and apply the style you desire to them.
The dyes we use are ecological and available in a wide range.
The styles we work with are:

Antique patinas

Gold leaf lining

Silver lining

Crackeled

Hand polish with resin

Glossy lacquer
Press here to see more of our works. We serve all Iraklio areas and also Crete.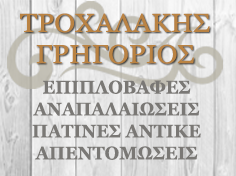 STIAKOU METOCHI, FINIKIA - Iraklio
6955172747, 6972248574 | giannistrochalakis@gmail.com